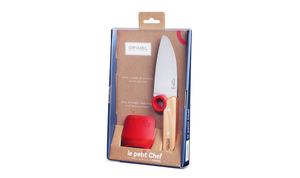 Le Petit Chef Children's Safety Knife

From Opinel, the family run French knife manufacturing company established in 1890, comes this excellent quality children's safety knife with stainless steel blade and beech wood handle. Le Petit Chef collection focuses on teaching children to cook in a safe way.
The knife comprises a 10cm long round-tipped blade with child-appropriate sized beech handle and red training ring to help position the fingers and prevent the hand from moving under the blade. A specially designed finger guard protects the other hand as it grips the food to be cut. 
Who is it suitable for?

Suitable for age 7+
Why we love it:
This is the perfect 'next step' knife for the growing chef. It has a sharp blade for excellent quality cutting and slicing, but its safety features including a rounded tip, training ring and finger guard means plenty of protection for your budding cook!
We also love the ultra light and perfectly proportioned packaging, which fits through most letter boxes!
What Your Order Will Contain:
1 x cardboard presentation box of Opinel Le Petit Chef Children's Safety Knife and finger guard
The finer details:
Manufactured: Portugal and France
Recyclable? Although the stainless steel, wood and plastic used in this product are all recyclable, this durable peeler set won't need to be recycled for a very long time! We expect you to be able to pass these on to younger siblings as the original owner grows
How to Look After Your Opinel Le Petit Chef Knife and Finger Guard:
Protect the beautiful beech handle by washing in warm soapy water and drying soon after. Not recommended for dishwasher.
This product is in stock and ready to ship from our base in Drogheda, Co. Louth within 1-2 working days of ordering