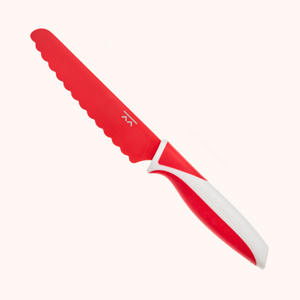 The new and improved Kiddikutter child safe knife - cuts food, not fingers!
The blade is much wider than the much loved previous version, this makes it easier to cut everything.
The cutting blade is thinner, which gives beautiful clean cuts to the food whilst of course keeping it safe for your little chefs' fingers.
Suitable for left or right handers.
Kiddikutter now comes in eco-friendly packaging, making the whole product recyclable.
Pop them in the dishwasher on the top rack.
Blade length: 9cm, Handle length: 9cm, Total length: 18cm
Kiddikutter and it's designer Maria Georgiou have won multiple worldwide awards, including Best Kids' Mealtime Product in the Clean & Conscious Awards, and a silver in the non toxic awards.
I'm sure you'll love it as much as we do.